Tojiro DP F-302 — Chef's knife from VG 10 steel, 180 mm blade, Japan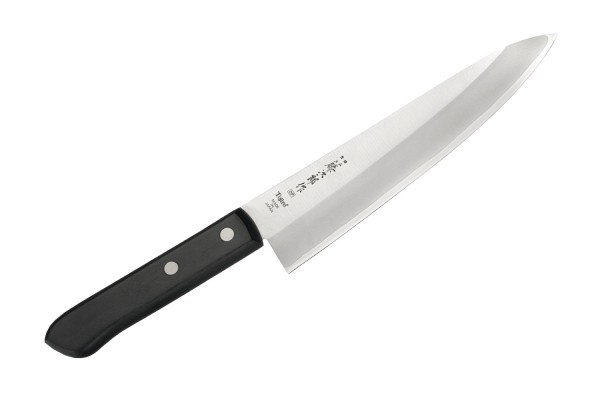 Discounts for regular customers
All registered users who made a purchase in our store become members of the loyalty program. Also, you can receive an e-mail newsletter with our special offers and promotions, as well as information on new arrivals and company news.
Budget gyuto with a blade of VG10.
* * * * * * * *
Versatile Chef's knife with an affordable price and excellent japanese steel blade.
The main difference from the Best Seller DP series is default of the bolster.
A great "entrance ticket" to the world of Japanese kitchen knives.
The blade is thin and cutting, and the knife itself is very light and comfortable.
It will be a good choice for home cooking.
Professionals also choose and use Tojiro A-1 knives.
Knife specifications:
Manufacturer:
© TOJIRO / Fujitora Industry
Serie:
Tojiro DP series by 3 layers with no bolster
Country of origin:
Japan
Blade steel:
Laminated stainless VG-10 (Takefu Special Steel Co.)
Qty. of layers:
3 layers
Steel hardness:
≈ 60 HRC on the Rockwell scale
Blade lenght:
180 mm
Greatest blade width:
44 mm
Blade thickness:
1.6 mm
Sharpening type:
Double edge 50/50
Handle lenght:
115 mm
Handle material:
Durable and resistant to external influences, wood-polymer composite Pakkawood
Overall length:
300 mm
Weight:
99 g
Sterilization:
Not recommended