Tojiro DP F-827 — Boning knife, 3 layers, VG 10 steel, blade 155 mm, Japan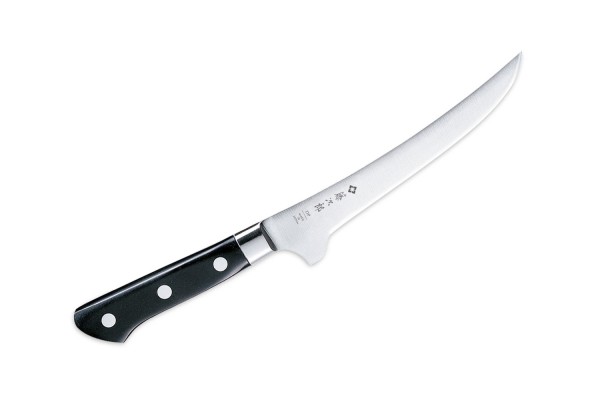 Discounts for regular customers
All registered users who made a purchase in our store become members of the loyalty program. Also, you can receive an e-mail newsletter with our special offers and promotions, as well as information on new arrivals and company news.
Special Boning knife. Butcher's tool.
* * * * * * * *
An advanced American knife, designed to trimming meat from bones.
It differs from the classic japanese Honesuki in the shape and thickness of the spine.
Allows faster and more convenient to make a vein and deboning.
Notably thinner than its eastern counterpart, it has a scimitar bend of blade, and stopper for catching the product.
Knife built firmly and thoroughly, but always necessary to monitor the lack of contact with bones, unless you are a crash tester.
A valuable special tool for a professional, who often has to work with a lot of raw meat or fish.
With proper operation, it can do without sharpening for months.
Balance confidently in the palm of your hand.
The blade is curved, with symmetrical grind of the western sample.
It's important to learn how to work around bypassing objects of equal hardness and avoiding cutting into the kitchen board without the need, because it is these two actions that greatly wear the cutting edge.
Core, stainless VG-10 with excellent hardening up to 60 HRC on the Rockwell scale.
Soft metal plates protect the core from overload.
Thin edge, providing a well-controlled and aggressive cut.
Comfortable full-sized handle, like the F-803.
The handle is rectangular, with rounded edges, giving excellent retention, and control the direction of the tip during operation.
Pakka wood material is warm, durable and pleasant to the touch.
A wood composite impregnated with a stabilizer under pressure.
This treatment eliminates soaking, is highly hygienic, odorless and safe to come into contact with food.
Tojiro products are manufactured in Japan at the Fuji Cutlery Co. factory in Tsubame, Niigata Prefecture.
This is an enterprise that created and owns brand rights.
A production culture and sophisticated technologies, including Decarburization Prevention (DP), put the company's products at an unattainable level in terms of price to performance.
It is important to consider that when washing in a dishwasher or boiling, the tree will wear out faster.
For institutions of public catering and food lines, where heat treatment can be a mandatory requirement, as well as other industrial uses, the Tojiro-Pro, Tojiro-Color and Kanetsugu PRO-S lines are designed.
A key feature of these series, handles made of non-slip brushed metal or high-tech polymer, without the slightest gaps and designed for sterilization.
Handling, care and storage recommendations:
Adhering to these simple rules, the owner will enjoyment, using personal knives set.
A high-quality tool, with respectful use, will last for many years, requiring only a couple of times a year, a planned recovery of sharpness.
Knife specifications:
Manufacturer:
© TOJIRO / Fujitora Industry
Serie:
Tojiro DP Cobalt Alloy Steel Series by 3-Layers
Country of origin:
Japan
Blade steel:
Laminated stainless VG-10 (Takefu Special Steel Co.)
Qty. of layers:
3 layers
Steel hardness:
≈ 60 HRC on the Rockwell scale
Blade lenght:
155 mm
Greatest blade width:
25 mm
Blade thickness:
2.4 mm
Sharpening type:
Double edge 50/50
Handle lenght:
123 mm
Handle material:
Durable and resistant to external influences, wood-polymer composite Pakkawood
Overall length:
305 mm
Weight:
160 g
Sterilization:
Not recommended