Tojiro PRO F-843 — Peeling knife, 3 layers, VG 10 steel, 70 mm blade, Japan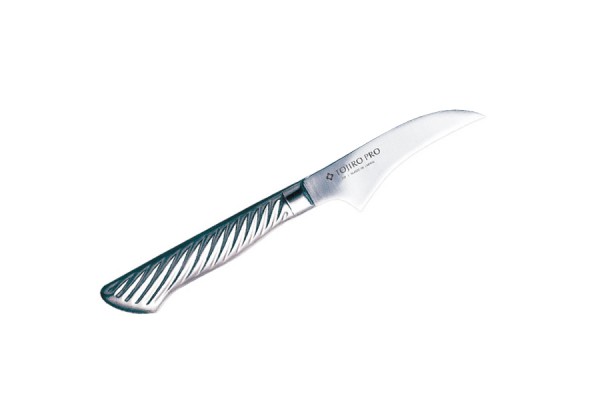 Discounts for regular customers
All registered users who made a purchase in our store become members of the loyalty program. Also, you can receive an e-mail newsletter with our special offers and promotions, as well as information on new arrivals and company news.
Special like hook paring knife, with blade 7cm.
* * * * * * * *
A knife for vegetables, including carving, that is, cutting out decorations from vegetables.
Indispensable for delicate work on the decoration of dishes.
Can be used for cleaning vegetables, we also recommend this vegetable peeler for cleaning.
Knife specifications:
Manufacturer:
© TOJIRO / Fujitora Industry
Serie:
Tojiro-Pro DP Cobalt Alloy Steel by 3 layers
Country of origin:
Japan
Blade steel:
Laminated stainless VG-10 (Takefu Special Steel Co.) in soft stainless plates
Qty. of layers:
3 layers
Steel hardness:
≈ 60 HRC on the Rockwell scale
Blade lenght:
70 mm
Greatest blade width:
19 mm
Blade thickness:
1.5 mm
Sharpening type:
Double edge 50/50
Handle lenght:
105 mm
Handle material:
18-8 Stainless steel with a matte non-slippery surface
Overall length:
195 mm
Weight:
63 g
Sterilization:
It's possible