NANIWA A-206 - Leveling bar for whetstones #600, Japan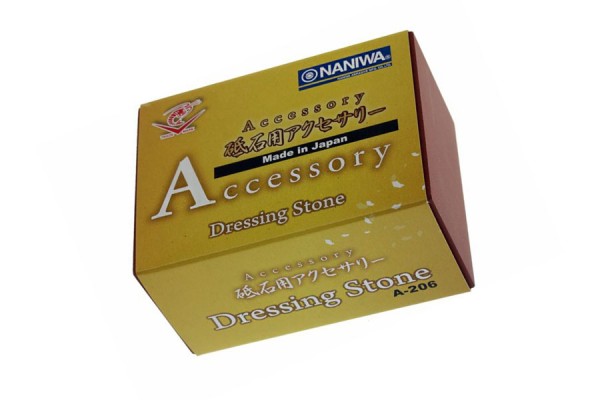 Discounts for regular customers
All registered users who made a purchase in our store become members of the loyalty program. Also, you can receive an e-mail newsletter with our special offers and promotions, as well as information on new arrivals and company news.
Keeping a constant angle when sharpening knives is extremely important.
It depends on the individual skill of sharpening specialist, and on how straightened the abrasive work surface is.
Stable & identical movements, but on an uneven place can spoil everything.
That is why, should provide timely care & prevention.
The density of the bond, here is crucial.
It is also important to learn how to use as much as possible the largest place of whetstone.
Movements in center is not the best method.
Even with proper effort, any sharpening stone needs to be restored.
This is a normal process, which will require an even and slightly rougher special stone.
Dressing stone should not be confused with Nagura, the pebble with a small grain for make the suspension.
Having finished improving, wash the surface thoroughly from coarse particles.
The procedure can be carried out either immediately after sharpening, or before work.
It should be noted that whetstones with a traditional type bond, must be soaked before alignment at the same time as before work.
Always try to keep your kit in good condition.
Specifications of a whetstone:
Manufacturer:
© Naniwa Abrasive
Serie:
Naniwa Sharpening Accessories
Country of origin:
Japan
Grain:
# 600
Abrasive material:
(WA) White Aluminium oxide
Linkage:
Organic, with well water adsorbtion. Includes mineral fillers that regulate the physicomechanical and operational properties
Purpose:
The alignment of working surface of whetstones, as well as the disclosure of abrasive grains, in the case of pollution & reduce working properties
Dimensions:
Length: 65 mm, width: 47 mm, height: 32 mm (65 х 47 х 32 mm)
Weight:
≈ 200 g