NANIWA MV-502/510 - Combined whetstone #220/#1000, Vietnam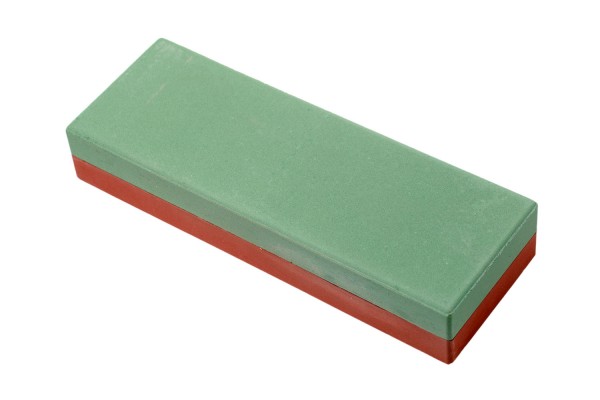 Discounts for regular customers
All registered users who made a purchase in our store become members of the loyalty program. Also, you can receive an e-mail newsletter with our special offers and promotions, as well as information on new arrivals and company news.
The Lobster Multi Stones series is a budget model, manufactured by Naniwa Abrasive.
You get a quality tool, by paying less.

The company makes two classic combinations:

# 220/1000 — Removing chips and removing traces of rough processing
# 1000/3000 — Maintaining a good cut, without the need for a large removal of steel

These are traditional water stones, which are recommended to soak in water for up to 10 minutes before use.
They are subject to normal wear, but the number of sharpening, until completely worn out, will amount to hundreds of restored knives.
The purchase will work out the invested funds, and will serve as a useful training apparatus.

If the priority is to get the practice of manual sharpening, with an exercise on inexpensive knives, this choice is justified.
Perhaps the next step will be the acquisition of really fast & durable Chosera Professional.
Or it will come to understand that professional service is better, but in home will have a sharpening tool at hand for periodic training and keeping the home kitchen blades arsenal in working condition.

In any case, the indisputable advantages are the full size, sufficient performance, as well as "two in one", at an attractive price.

Before storage, it is necessary to thoroughly wash & dry the whetstone, away from the sun, performing if necessary the leveling procedure using a special dressing stone.
Specifications of a whetstone:
Manufacturer:
© Naniwa Abrasive
Serie:
Lobster Multi Stones
Country of origin:
Vietnam
Grain:
# 220 / # 1000
Abrasive material:
(A) Aluminium oxide
Linkage:
Organic, with well water adsorbtion. Includes mineral fillers that regulate the physicomechanical and operational properties
Purpose:
#220 - Repair and formation of the cutting edge. Other work related to large metal removal. #1000 - Maintain normal household sharpness. Removing cutting edge formation traces. Polishing preparation.
Dimensions:
Length: 185 mm, width: 65 mm, height: 30 mm (185 х 65 х 30 mm)
Weight:
≈ 800 g
Base stand:
Purchased separately