NANIWA NAJ-530 - Inexpensive polishing whetstone #3000, 210x65x20 mm, Vietnam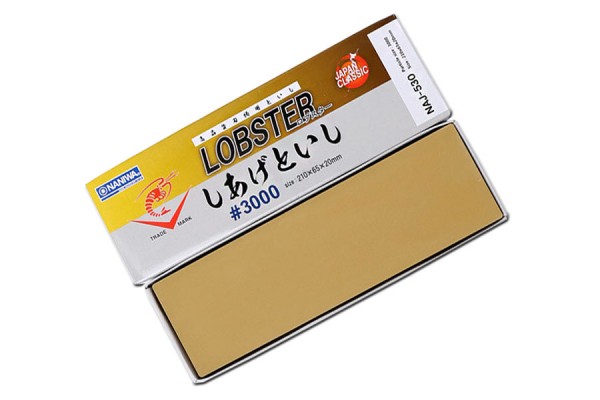 Discounts for regular customers
All registered users who made a purchase in our store become members of the loyalty program. Also, you can receive an e-mail newsletter with our special offers and promotions, as well as information on new arrivals and company news.
Basic skills & understanding of manual sharpening can be mastered on inexpensive Japanese whetstones.
Especially, if the knives on which the sharpening is mastered, from cheap mild steel.
Keeping the desired angle and repeatability of movements, at the initial stage, is the most important skill.
Later, when everything will turn out well, it will be necessary to switch to stones with a high speed of work.
The newbie may have enough budget water stones from a reputable manufacturer.
Here you can be sure of a good balance of qualities for its price.
By itself, these abrasives can oppose to the top-end series, only its low prices.
They are fully consistent with the price-quality ratio, and allow you to achieve excellent household sharpness, with an easy passing of the "paper test".
Water stones of the VN Stone series need relatively long soaking, up to 10 minutes.
Almost complete absence of air bubbles indicates a sufficient time in the water, and readiness for work.
Subsequently, moisten the surface, as needed.
For repair of edge damages, rough grinding & formed of the cutting edge, a coarse abrasive grain 220 is used.
This save time, and presence of a roughing whetstone, always needed in any set for sharpening.

After completion of the roughing step, it is necessary to proceed to a more fine grinding on an abrasive of 1000 or more.
Finishing polish is considered to be 3000 or higher, depending on the desired result.
Three-thousandth grain, will give excellent household sharpness, and purely processed surface of cutting edge.
In case higher quality polishing is required, it is necessary to use 5000 or higher, up to 12000.
Before storage, it is necessary to completely clean & dry your stones, away from the sun by following the alignment procedure via a dressing stone if it's necessary.
Store best at mild temperature and humidity.
Specifications of a whetstone:
Manufacturer:
© Naniwa Abrasive
Serie:
VN Stone
Country of origin:
Vietnam
Grain:
# 3000
Abrasive material:
(A) Aluminium oxide
Linkage:
Organic, with well water adsorbtion. Includes mineral fillers that regulate the physicomechanical and operational properties
Purpose:
Finishing polishing with the provision of glossy shine and high sharpness of the cutting edge
Dimensions:
Length: 210 mm, width: 65 mm, height: 20 mm (210 x 65 x 20 mm)
Weight:
≈ 600 g
Base stand:
Purchased separately