NANIWA QA 362 - Half-round special whetstone #3000, 133x28x20 mm, Japan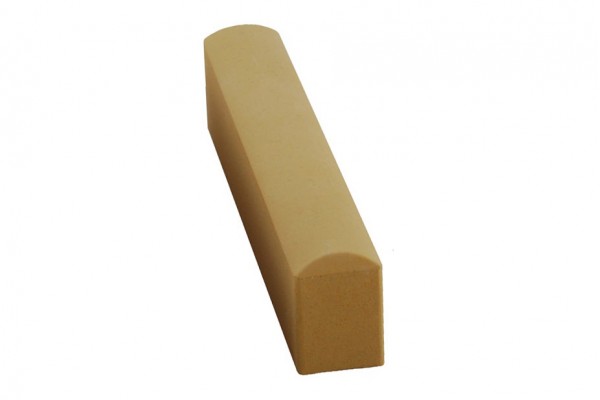 Discounts for regular customers
All registered users who made a purchase in our store become members of the loyalty program. Also, you can receive an e-mail newsletter with our special offers and promotions, as well as information on new arrivals and company news.
Whetstones for a concave edge.
Not so long ago, there were no special grinding bars intended for such tools.
Garden knives for pruning and grafting seedlings, pruners, flower and mushroom knives, had to sharpen in uncomfortable ways.
Anyone who has tried to recover concave blade on a flat bar, can confirm how uncomfortable it is.
Gouken Curved Stone easily solves this problem.
The shape is long & convex, just what you need.
No matter whether the blade of your knife, scissors or shears is curved inside or outside, these water stones meet all requirements.
Dimensions thought out, tested, and easily fit in your hand, while having a sufficient working surface.
Three basic grit, in a compact specialized forms.
Coarse 220 — For quick sharpening.

Medium 1000 — To remove deep traces of rough sharpening, and give a normal household sharpness.
Finishing 3000 — for polishing, and maintaining the edge in excellent condition.

You can buy everything individually, or a complete set, with free delivery in Ukraine.
Recommendations for use:
Hold in water for about 10 minutes, until the air bubbles stop coming out.
Ready to work after a short soak.
Keep must be well dried, away from the sun.
Specifications of a whetstone:
Manufacturer:
© Naniwa Abrasive
Serie:
Goken Carved stone
Country of origin:
Японія
Grain:
# 3000
Abrasive material:
(WA) White Aluminium oxide
Linkage:
Organic, with well water adsorbtion. Includes mineral fillers that regulate the physicomechanical and operational properties
Purpose:
For concave cutting edge. Finishing polishing with the provision of glossy shine and high sharpness of the cutting edge
Dimensions:
Length: 133 mm, width: 30 mm, height: 20 mm (133 х 30 х 20 mm)
Weight:
≈ 110 g
Base stand:
Purchased separately