NANIWA S2-450 - Professional whetstone #5000, 210x70x20 mm, Japan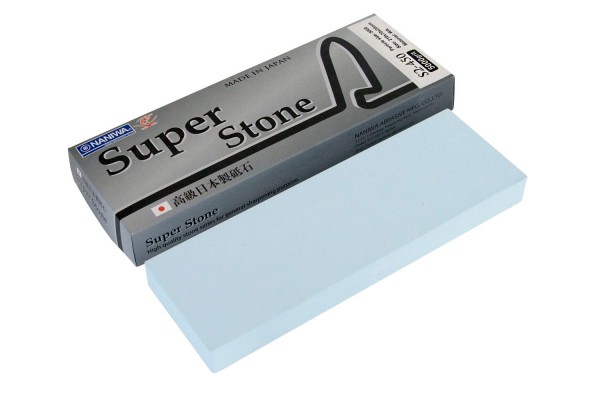 Discounts for regular customers
All registered users who made a purchase in our store become members of the loyalty program. Also, you can receive an e-mail newsletter with our special offers and promotions, as well as information on new arrivals and company news.
Registration form:
Whetstones Naniwa Super Stone have earned recognition as full-size high-quality abrasives, with excellent metal removal rate & wear resistance.
An important component of popularity was the affordable pricing policy of the company.
Each sharpening specialist can afford such an acquisition, given the fact that the service life of the products in this series is very long.
With proper use, they will last for a lifetime.
The manufacturer has maintained a high level of quality for many decades, and because of this, Naniwa Abrasiwe products are recognizable & well known throughout the world.
Marking S2 Super Stones, is twice as thick (20mm), which gives the maximum resource for many years.
The product line uses a multi-component polymer bond (Resin bond), which provides the following benefits:
1) There is no need for long soaking. The wetted surface is immediately ready to start sharpening.
2) The high content of abrasive grain, gives the result quickly, without the accumulation of attention fatigue, that increasing the chance for error.
3) Resistance to the "saddle" formation, and the absence of the need for constant monitoring of work surface, due to the density of the binder composition.
4) Low risk of damage if handled incorrectly.
5) Due to the relative ductility, it is excellent for sharpening particularly hard & hardened steels.
The largest range of gritiness is presented in this series:
# 220 Extra Coarse
Required to repair chips or re-sharpening to another cutting angle, extremely blunted or damaged blades.
# 400 Coarse
Standard rough whetstone for an unbroken, but thoroughly worn cutting edge.
# 1000 Medium
Removal of traces of previous rough processing, or restoration of cutting edge when scheduled sharpening.
Allows you to achieve a normal sharpness of household knives.
# 3000 Extra Fine
Finishing, also suitable for edge correction, and as an intermediate, between the previous & 10-12K stones.
# 5000 Very Fine
Suitable for final polishing, also a good transition in the progression between the thousandth to 10,000 or 12,000.
# 10,000 Extremely Fine
The thinner than 5000 is an excellent final stage for very sharp knives & straight edge razor.
# 12 000 Mirror Polish
Thanks to a very fine grain, will help to get a phenomenal sharpness and a mirror shine.
Popular for finish the straight edge razor.
Before keep storage, it is necessary to completely clean & dry your stones away from the sun, if necessary, perform the procedure to align them with a special dressing stone.
Best kept at medium temperature & humidity.
Specifications of a whetstone:
Manufacturer:
© Naniwa Abrasive
Serie:
Super Stone (Naniwa Sharpening Stones)
Country of origin:
Japan
Grain:
# 5000
Abrasive material:
(WA) White Aluminium oxide
Linkage:
Organic, with faintly water adsorbtion. Includes mineral fillers that regulate the physicomechanical and operational properties
Purpose:
Upscale finishing polishing with the provision of glossy shine and high sharpness of the cutting edge
Dimensions:
Length: 210 mm, width: 70 mm, height: 20 mm (210 x 70 x 20 mm)
Weight:
≈ 700 g
Base stand:
Purchased separately