Tojiro F-455 — Pofessional polishing whetstone # 8000, 265x80x40 mm, Japan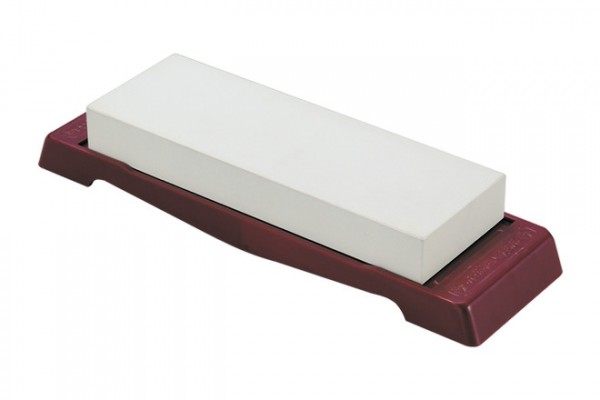 Discounts for regular customers
All registered users who made a purchase in our store become members of the loyalty program. Also, you can receive an e-mail newsletter with our special offers and promotions, as well as information on new arrivals and company news.
Super finishing professional stone.
* * * * * * * *
With the grit # 8000, the mirror gloss of the cutting edge is achieved.
This moment is an indicator of the professionalism of the master sharpening.
Planing hair by weight, cutting a paper napkin, cutting off the thinnest slices from a lying tomato, this is not a complete list of tests for sharpening an superb grit.
Thin finish stone, is simply irreplaceable here.
Specifications of a whetstone:
Manufacturer:
© TOJIRO / Fujitora Industry
Serie:
Whetstones for Professionals
Country of origin:
Japan
Grain:
# 8000
Abrasive material:
(WA) White Aluminium oxide
Linkage:
Organic, with faintly water adsorbtion. Includes mineral fillers that regulate the physicomechanical and operational properties
Purpose:
# 8000 superfinish polished edge to a mirror shine, with bringing to the reference sharpness
Dimensions:
Length: 198 mm, width: 70 mm, height: 25 mm (198 x 70 x 25 mm)
Weight:
880 g
Base stand:
Fixed platform. Size with platform: L 265 x W 80 x H 45 mm