Tojiro DP F-503 — Santoku knife, 3 layers by VG 10 steel, 170 mm blade, Japan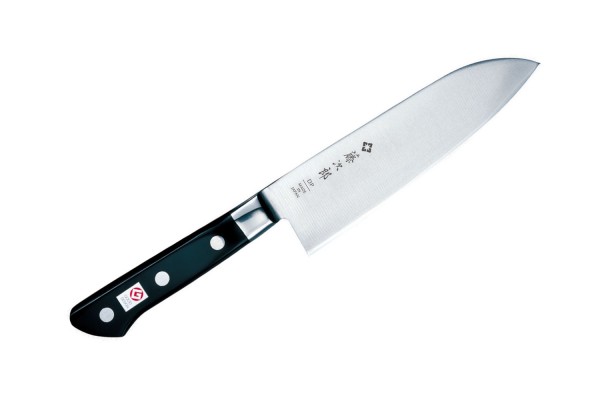 Discounts for regular customers
All registered users who made a purchase in our store become members of the loyalty program. Also, you can receive an e-mail newsletter with our special offers and promotions, as well as information on new arrivals and company news.
The Japanese version of the universal medium knife. "Three virtues" meat, vegetables, fish.
* * * * * * * *
East Santoku, is the first competitor of the chef"s knife, with a blade a little shorter and wider than that of the "chef."
The fact that it is more convenient to use, Santoku or "Chef" there are many reviews and opinions, but Santoku is undoubtedly a worthy choice, especially if the workspace is small.
Good for various types of cutting works.
Versatile, and suitable for the role of the main knife in the home cooking knife pair.
Professionals also often use Santoku as their primary assistant.
A great option for a gift knife, both for men and women.
The balance of the blade in the middle of a bolster.
Knife specifications:
Manufacturer:
© TOJIRO / Fujitora Industry
Serie:
Tojiro DP Cobalt Alloy Steel Series by 3-Layers
Country of origin:
Japan
Blade steel:
Laminated stainless VG-10 (Takefu Special Steel Co.)
Qty. of layers:
3 layers
Steel hardness:
≈ 60 HRC on the Rockwell scale
Blade lenght:
170 mm
Greatest blade width:
46 mm
Blade thickness:
1.8 mm
Sharpening type:
Double edge 50/50
Handle lenght:
120 mm
Handle material:
Durable and resistant to external influences, wood-polymer composite Pakkawood
Overall length:
298 mm
Weight:
180 g
Sterilization:
Not recommended