Tojiro DP F-807 — Chief's knife, 3 layers, VG 10 steel, 180 mm blade, Japan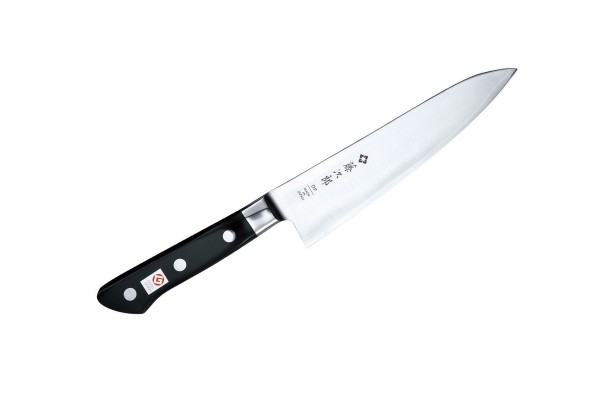 Discounts for regular customers
All registered users who made a purchase in our store become members of the loyalty program. Also, you can receive an e-mail newsletter with our special offers and promotions, as well as information on new arrivals and company news.
Kitchen chef knife with the shortest blade length of 18 cm. Small size.
* * * * * * * *
Western Gyuto, with the smallest blade.
Here we offer an excellent universal solution for home cooking, where sometimes there is not a large working space and there is no need for a large knife.
Classic cook techniques with such a knife can not be mastered, but he will cope with all ordinary household tasks perfectly.
It may be main competitor Santoku, because difference length of the blade from them is small.
It goes well with petty, a knife for auxiliary tasks, and can be a medium knife in the 3-piece Knife Set (Paring, Santoku, Chef's Knife) or a large knife in the home "Cooking knife pair".
Knife specifications:
Manufacturer:
© TOJIRO / Fujitora Industry
Serie:
Tojiro DP Cobalt Alloy Steel Series by 3-Layers
Country of origin:
Japan
Blade steel:
Laminated stainless VG-10 (Takefu Special Steel Co.)
Qty. of layers:
3 layers
Steel hardness:
≈ 60 HRC on the Rockwell scale
Blade lenght:
180 mm
Greatest blade width:
44 mm
Blade thickness:
1.8 mm
Sharpening type:
Double edge 50/50
Handle lenght:
120 mm
Handle material:
Durable and resistant to external influences, wood-polymer composite Pakkawood
Overall length:
307 mm
Weight:
170 g
Sterilization:
Not recommended