Tojiro Shirogami F-910 — Yanagiba, carbon steel, 2 layers, 300 mm blade, Japan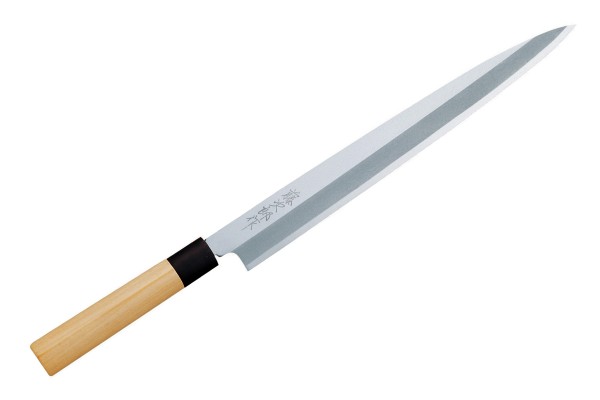 Discounts for regular customers
All registered users who made a purchase in our store become members of the loyalty program. Also, you can receive an e-mail newsletter with our special offers and promotions, as well as information on new arrivals and company news.
Yanagiba traditional one-sided slicer knife, for cutting in one motion.
* * * * * * * *
Indispensable for masters in the preparation of japanese sushi or sashimi.
This knife will cut raw fish fillet in a way that no other can.
The optimal length for Yanagi ba is 270-300 mm.
It is with these parameters of the blade, it turns out to make smooth and beautiful slices.
It is prudent to protect the cutting edge from contact with hard objects to maintain razor sharpness.
When slicing only soft food products, the yanagiba will remain sharp for extremely long.
In our online store, several Yanagi-ba options are offered in carbon and stainless steels.
Products of well-known knife companies sold by us have already earned good reviews from users, including many professional chefs.
The grind of the blade are asymmetric, designed for the right-hander. Right side is protruded, left slightly concave.
A two-layer high-carbon Shirogami core with quenching up to 60 HRC Rockwell in a soft steel sandvich.
Tojiro products are manufactured in Japan at the Fuji Cutlery Co. factory in Tsubame, Niigata Prefecture.
This is an enterprise that created and owns brand rights.
The culture of production and sophisticated technology, put the company's products at an unattainable level, in terms of price & quality.
The handle is large, conical, with a slight bulge on the right.
The material, magnolia wood, without impregnation, with a bolster made of durable food-grade plastic.
The tree is not impregnated, and in order to extend the service life, it is reasonable to independently impregnate the handle with linseed oil until it completely dries and polymerizes.
Recommendations for handling, care and storage:
Adhering to these simple rules, the owner will receive only positive emotions using his knives set.
A quality knife, with respectful use, will last for many years, requiring only a couple of times a year, the re-sharpening service.
Knife specifications:
Manufacturer:
© TOJIRO / Fujitora Industry
Serie:
Tojiro Shirogami Steel Series
Country of origin:
Japan
Blade steel:
Shirogami Steel (White paper) with soft metal lining
Qty. of layers:
2 layers
Steel hardness:
≈ 62 HRC on the Rockwell scale
Blade lenght:
300 mm
Greatest blade width:
35 mm
Blade thickness:
3.8 mm
Sharpening type:
One-sided, right slope convex, left concave
Handle lenght:
143 mm
Handle material:
Magnolia wood with plastic bolster
Overall length:
448 mm
Weight:
191 g
Sterilization:
Not recommended