PRO-S 5003 - Santoku knife from MoV steel 170 mm blade. Kanetsugu, Japan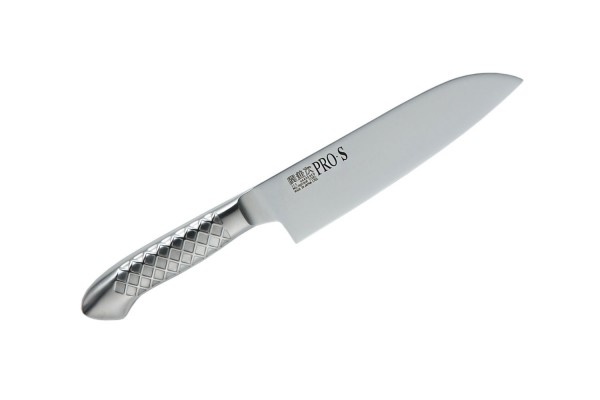 Discounts for regular customers
All registered users who made a purchase in our store become members of the loyalty program. Also, you can receive an e-mail newsletter with our special offers and promotions, as well as information on new arrivals and company news.
Santoku, or "Three Virtues", from the Kanetsugu PRO S Professional Series

A frequent guest in the kitchen, among connoisseurs of good knives, and a participant of many knife reviews and tests.
It contains all the best, that the company is ready to offer in the optimal solution.
Manufacturing of all elements, completed with filigree accuracy.
Components are durable, and the service potential of such a blade is for many years, with infrequent editing.
Heat treatment of steel at PRO-S, medium by Japanese standards.
Unaided sharpening on water stones, or leveling the cutting edge with sharpening rod, is not associated with difficulties due to increased fragility.
You can entrust this work to our service.
A win-win gift and an excellent kitchen tool for every day.
Blade — Molybdenum stainless 1K-6 Daido High-carbon steel, with cryogenic hardening at a temperature of -70 °C, for maximum improvement of working properties.
Made in Japan, at Seki Kanetsugu Co. Ltd factory, with using craftsmen's work and high precision CNC machines.
Hardness up to 57 HRC.
The Convex (lenticular) grind on the right side, and flat on the left.
Thin and symmetrical cutting edge, characteristic of the company's products.
The famous "convexity" refers to the right slope, and not to the edge.
There are no problems, with following sharpening.
The handle is all-steel, by uneven texture for a reliable hold.
A full sized, with well-thought-out geometry, therefore it fits normally both in the female hand, and in the large male palm.
All details are perfectly fitted, and the knife gives the impression of a single whole.
For industrial use, were created & manufactured in Japan, and presented by our shop, the excellent Tojiro-Pro and Tojiro-Color series, with metal or heat-resistant polymer handles, withstand for sterilization.
Recommendations for handling, storage and care:
Adhering to simple rules, the owner will receive positive emotions, using the collected knife set.
A carefully crafted thing, with careful use, will last for decades, requiring several times a year, a planned restoration of sharpness.
Knife specifications:
Manufacturer:
Seki Kanetsugu Knife Co.
Serie:
PRO·S
Country of origin:
Japan
Blade steel:
Stainless 1K-6 Daido High-carbon steel with cryogenic treatment at -70 °C
Qty. of layers:
Single-layer steel
Steel hardness:
≈ 57 HRC on the Rockwell scale
Blade lenght:
170 mm
Greatest blade width:
44 mm
Blade thickness:
1.8 mm
Sharpening type:
Double edge 50/50
Handle lenght:
117 mm
Handle material:
18-8 Stainless steel
Overall length:
297 mm
Weight:
144 g
Sterilization:
It's possible