PRO-S 5005 - Chef's knife from MoV steel 210 mm blade. Kanetsugu, Japan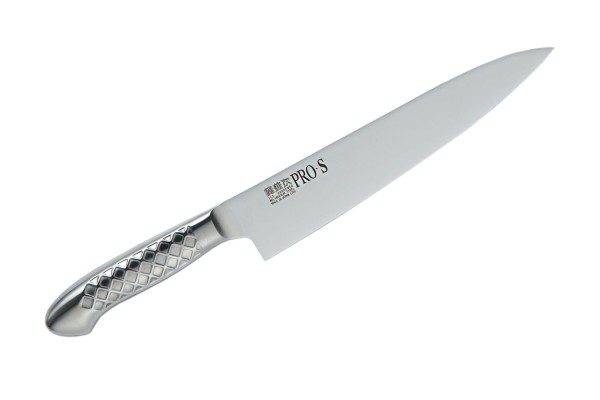 Discounts for regular customers
All registered users who made a purchase in our store become members of the loyalty program. Also, you can receive an e-mail newsletter with our special offers and promotions, as well as information on new arrivals and company news.
Reference class Chef knife from the average price range.
* * * * * * * *
It's magnificent, and much more expensive knives, are able to a little surpass it.
A deep understanding of cut geometry, ease of operation, and user needs is the hallmark of the PRO-S series.
Weighted forms, perfect balance, impeccable level of production and quality of materials guarantee a bargain and complete customer satisfaction.
Perfect like main, in the professional knife set.
Blade:
Molybdenum stainless 1K-6 Daido High carbon steel with cryogenic treatment at -70 ° C, for maximum improvement in working qualities.
Made in Japan, Seki Kanetsugu Co. Ltd using manual works and high-precision CNC machines.
Hardness 57HRC.
Tapering butt at the tip, about 2.0 mm in thickening.
Convex slope on the right and flat left.
Sharpening 50/50
Handle:
All-steel, matte, with a notching for reliable retention in a wet environment.
Medium-sized, with well-thought-out geometry, it normally fits in both the female hand and the large male palm.
All parts are immaculately polished and the product gives the impression of a whole.
Balance is middle.
For industrial applications, excellent use Kanetsugu PRO-S, Tojiro-Pro and Tojiro-Color series are created and presented by us, with stainless steel or high-tech polymer handles designed for sterilization.
Care and storage tips:
Adhering to these simple recommendations, the owner will enjoy the Japanese knife for many years, because a quality-made knife is designed for decades of faithful work.
We offer the same complete service for further maintenance and sharpening.
Knife specifications:
Manufacturer:
Seki Kanetsugu Knife Co.
Serie:
PRO·S
Country of origin:
Japan
Blade steel:
Stainless 1K-6 Daido High-carbon steel with cryogenic treatment at -70 ° C
Qty. of layers:
Single-layer steel
Steel hardness:
≈ 57 HRC on the Rockwell scale
Blade lenght:
210 mm
Greatest blade width:
43 mm
Blade thickness:
1.8 mm
Sharpening type:
Double edge 50/50
Handle lenght:
117 mm
Handle material:
18-8 Stainless steel
Overall length:
337 mm
Weight:
150 g
Sterilization:
It's possible