Japanese HOCHO 4032 - Slicing knife from 1K-6 MoV steel 240 mm blade. Kanetsugu, Japan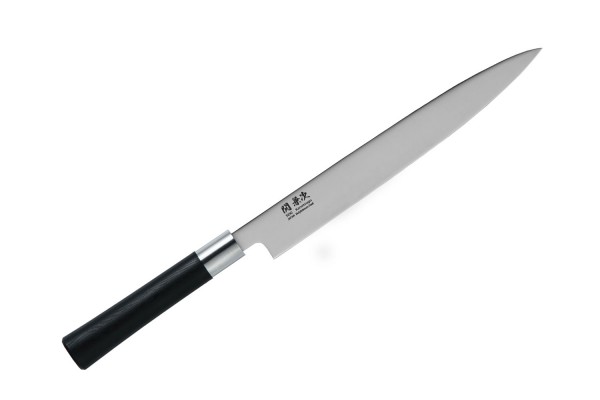 Discounts for regular customers
All registered users who made a purchase in our store become members of the loyalty program. Also, you can receive an e-mail newsletter with our special offers and promotions, as well as information on new arrivals and company news.
However, some of its features will require getting used to use, as well as acquiring the skills of sharpening traditional japanese blades on
whetstones
.
Despite these nuances,
Yanagiba
remains indispensable for professionals.
For a beginner who has begun to master the intricacies of cooking Oriental cuisine dishes, should start forming your personal kitchen knives kit, with a
Sujihiki knife
, adapted for western users.
In the cut potential, he is almost equal to Yanagi, but does not have a sideways movement related with the special grind form, and the process for re-sharpening it is much simpler.
Due to the small width, the cut products stick little, and the sharp & long blade allows you to make a cut in one motion, which is extremely important.
An ordinary
Chef's knife
or
Santoku
is also capable of much, but inferior in blade length, and much wider.
Therefore, they stick more noticeably in soft foodstuffs.
A key feature of the slicing knife is blade length.
The larger it is, the easier it is to get smooth and beautiful slices.
When choosing in the first place, you should pay attention to this parameter and the result will please.
The grind is symmetrical, European style, with a very thin edge.
Rust-resistant molybdenum
1K-6 Daido high-carbon steel
with cryogenic hardened by a temperature of -70 °C, for maximize improvement of working properties.
Hardness 57 HRC.
Full-sized handle with oval cross-section.
High-strength food-grade polymer with a non-slip texture repeating a wooden surface.
Metal bolster from 18-8 stainless steel.
All parts are perfectly fitted, which demonstrates a high manufacturing culture and compliance with hygiene requirements.
Extremely robust design for commercial use.
Adhering to these simple rules, the owner will receive only positive emotions using his
knife kit
.
A quality thing with careful use, will work for decades, requiring only a few times a year, a planned
recovery of sharpness
.
Knife specifications:
Manufacturer:
Seki Kanetsugu Knife Co.
Serie:
Japanese HOCHO: Plastic Handle
Country of origin:
Japan
Blade steel:
Stainless 1K-6 Daido High-carbon steel with cryogenic treatment at -70 °C
Qty. of layers:
Single-layer steel
Steel hardness:
≈ 57 HRC on the Rockwell scale
Blade lenght:
240 mm
Greatest blade width:
31 mm
Blade thickness:
1.9 mm
Sharpening type:
Double edge 50/50
Handle lenght:
135 mm
Handle material:
High-tech polymer material with wood texture
Overall length:
380 mm
Weight:
128 g
Sterilization:
Not recommended