Tojiro F-433 — Combined whetstone # 1000 / # 3000 with stand, Japan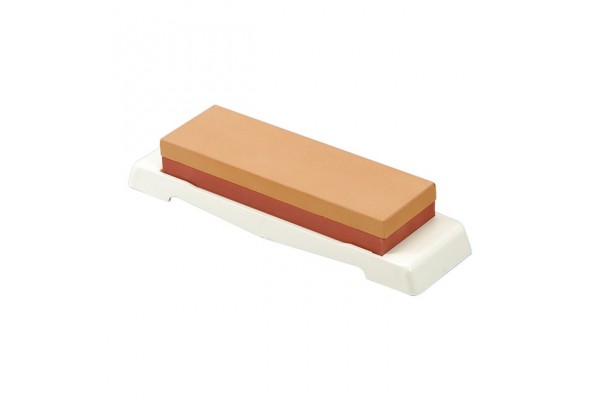 Discounts for regular customers
All registered users who made a purchase in our store become members of the loyalty program. Also, you can receive an e-mail newsletter with our special offers and promotions, as well as information on new arrivals and company news.
Two-sided stone 1000/3000 for home use.
* * * * * * * *
Manual sharpening is a skill that any owner of Japanese knives can master.
To hold the blade at the needed angle, you will need practice.
The inexpensive F-433 combination stone is a great tool for beginners.
With its help, it will be possible to bring existing knives to razor sharpness.
The 1000th side is suitable for sharpening, and the 3000th side is for finishing and polishing the edge.
Before work requires soaking in clean water.
For storage, the stone must be washed and dried.
For sharpening work in large volumes, our online knife shop offers Tojiro professional abrasives.
Specifications of a whetstone:
Manufacturer:
© TOJIRO / Fujitora Industry
Serie:
Home use whetstone
Country of origin:
Japan
Grain:
# 1000 / # 3000
Abrasive material:
(A) Aluminium oxide
Linkage:
Organic, with well water adsorbtion. Includes mineral fillers that regulate the physicomechanical and operational properties
Purpose:
#1000 - Repair and formation of the cutting edge. Other work related to large metal removal. #3000 - Finishing polishing with the provision of glossy shine and high sharpness of the cutting edge.
Dimensions:
Length: 175 mm, width: 55 mm, height: 30 mm (175 x 55 x 26 mm)
Weight:
550 g without platform, 660 g with platform
Base stand:
Detachable included. With stand: L 230 x W 65 x H 40 mm