Tojiro F-687 — Bread Knife, stainless Mov steel, 270 mm blade, Japan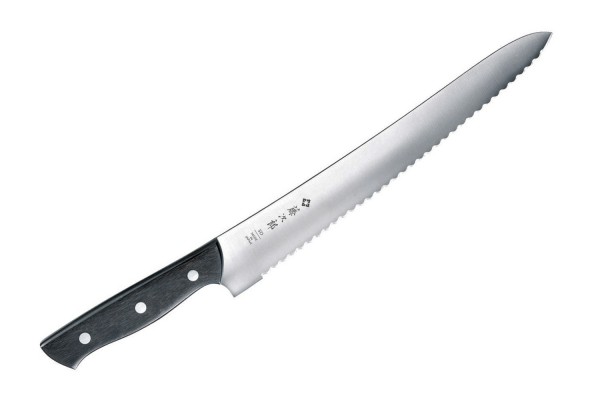 Discounts for regular customers
All registered users who made a purchase in our store become members of the loyalty program. Also, you can receive an e-mail newsletter with our special offers and promotions, as well as information on new arrivals and company news.
A good bread knife is vital for any pastry chef.
It should not be considered intended only for slicing bread.
The range of capability is much wide.
Cutting pastries and pastry cakes is difficult to do with plane knives, and here a wave-like sharpening is very useful.
When working on a soft loaf or biscuit, the sharpness will remain exceptionally long, since the cutting edge is most deteriorate on a cutting board.
Than smaller the blade crashes into the board surface, the longer the sharpening will last.
Contrary to the belief that the serrated edge cannot be restored, it is not true.
A thin ceramic rod, or even a extra fine file, will give quite a decent result.
A qualified sharpening service will also cope with the task.
High quality workmanship for a long service life will does Tojiro SD Bread Knife a wonderful purchase not only for a professional pastry chef, but also for everyone, who wants to have a long blade for bakery products in their set.
Japanese stainless molybdenum-vanadium steel.
The grind are symmetrical, and the cutting edge on the right side.
Hardness of steel is 57 HRC on the Rockwell scale.
The scimitar form of a blade with an aggressive serrated edge wave, providing the maximum productivity and maneuverability.
A large ergonomic handle that fits well in both the female hand and large male palm.
High-strength Pakka-wood composite, impregnated under pressure with a special composition that prevents the penetration of damp.
Wood is a warm material with excellent performance and durability.
Tojiro products are manufactured in Japan at the Fuji Cutlery Co. factory in Tsubame, Niigata Prefecture.
This is an enterprise that created & owns brand rights.
The culture of production and complicated technology, put the company's products at an unattainable level, in terms of price to performance.
It is important to consider that when washing in a dishwasher or boiling, the tree will wear out faster.
Tojiro-Pro, Tojiro-Color and Kanetsugu PRO-S lines have been developed for catering establishments and food lines where heat treatment may be a requirement, as well as for other industrial uses.
A key feature of these series, handles made of non-slip brushed metal or high-tech polymer, without the slightest gaps and designed for sterilization.
Advice on handling, care & storage:
Adhering to these simple rules, the owner will receive only positive emotions with using personal knives kit.
A high-quality tool, with respectful use, can serve for many years, requiring only a couple of times a year, a planned recovery of sharpness.
Knife specifications:
Manufacturer:
© TOJIRO / Fujitora Industry
Serie:
Tojiro Molybdenum Vanadium Steel Series
Country of origin:
Japan
Blade steel:
Stainless Molybdenum Vanadium steel
Qty. of layers:
Single-layer steel
Steel hardness:
≈ 57 HRC on the Rockwell scale
Blade lenght:
270mm
Greatest blade width:
40mm
Blade thickness:
2.1 mm
Sharpening type:
One-side serrated
Handle lenght:
130mm
Handle material:
Durable and resistant to external influences, wood-polymer composite Pakkawood
Overall length:
388mm
Weight:
176 g
Sterilization:
Not recommended