Tojiro Shirogami F-692 — Petty knife, 3 layers, carbon steel, 150 mm blade, Japan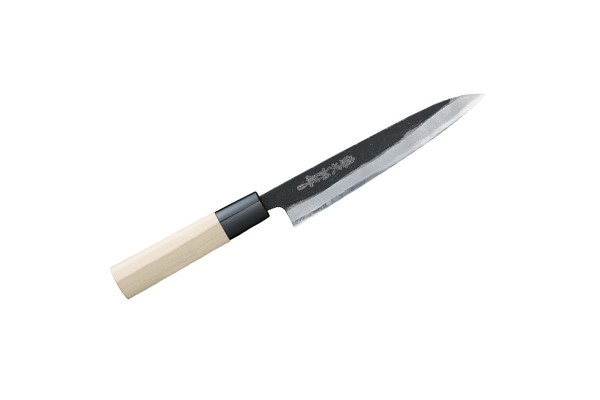 Discounts for regular customers
All registered users who made a purchase in our store become members of the loyalty program. Also, you can receive an e-mail newsletter with our special offers and promotions, as well as information on new arrivals and company news.
Medium utility knife with a blade of 15 cm.
* * * * * * * *
Useful and harmonious, nicknamed the ladies' man for being often chosen by the womens as a "knife for everything."
When choosing such a Japanese knife, it is important to consider that the steel of the blade here is Shirogami.
Sharp as a razor, but the blade is prone to rusting.
The blade must be kept dry and cleaned immediately after use.
Knife specifications:
Manufacturer:
© TOJIRO / Fujitora Industry
Serie:
Tojiro Shirogami Steel Series
Country of origin:
Japan
Blade steel:
Shirogami Steel (White paper) with Kurouchi descents
Qty. of layers:
3 layers
Steel hardness:
≈ 62 HRC on the Rockwell scale
Blade lenght:
150 mm
Greatest blade width:
30 mm
Blade thickness:
2 mm
Sharpening type:
Double edge 50/50
Handle lenght:
105 mm
Handle material:
Magnolia wood with plastic bolster
Overall length:
265 mm
Weight:
70 g
Sterilization:
Not recommended