Tojiro Shirogami F-693 — Chef's knife, 3 layers, carbon steel, 180 mm blade, Japan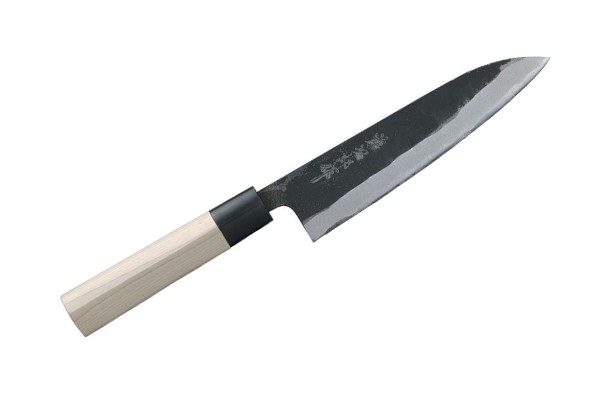 Discounts for regular customers
All registered users who made a purchase in our store become members of the loyalty program. Also, you can receive an e-mail newsletter with our special offers and promotions, as well as information on new arrivals and company news.
Medium versatile chef with a blade of 18 cm.
* * * * * * * *
Gyuto is the less common name for a chef's knife.
Japanese kitchen knives, divided by specialization.
The short gyuto F-693 looks like a Santoku knife, but a bit longer.
Steel of blade is Shirogami, with excellent aggressive cut.
The blade, sharp as a razor blade, is prone to rusting and requires careful attention.
You can ignore the appearance of stains, but you can not allow rusting cutting edge.
This will lead to a loss of sharpness and the knife will need sharpening, for which it is better to use whetstones.
Other quality abrasives can be used, including diamond stones, but this should be done carefully and with understanding.
The blade are symmetric, of 3-ayered layered high carbon Shirogami steel, with quenching up to 60 HRC Rockwell and a soft steel lining with black finish.
Tojiro products are manufactured in Japan at the Fuji Cutlery Co. factory in Tsubame, Niigata Prefecture.
This is an enterprise that created and owns brand rights.
The culture of production and sophisticated technology, put the company's products at an unattainable level, in terms of price and quality.
Handle size is medium, conical, with a slight bulge on the right side.
The handle material, is natural magnolia wood, without impregnation, with a bolster made of durable food-grade plastic.
The tree is not impregnated, and in order to extend the service life, it is reasonable to independently impregnate the handle with linseed oil until it completely dries and polymerizes.
It should be noted that knives with a handle made of wood, despite the high-quality processing, are not designed for washing in dishwashers and sterilization, which is sometimes a necessity for cafes and restaurants.
For use in industrial environments, we have presented a great series of Tojiro-Pro, Tojiro-Color and Kanetsugu PRO-S, with stainless steel or high-tech polymer handles designed for sterilization.
Following these simple recommendations, the owner will enjoy a Japanese knives set for many years, because a high-quality knife is capable of working for decades.
We offer the same complete service for successive maintenance & re-sharpening.
Knife specifications:
Manufacturer:
© TOJIRO / Fujitora Industry
Serie:
Tojiro Shirogami Steel Series
Country of origin:
Japan
Blade steel:
Shirogami Steel (White paper) with Kurouchi descents
Qty. of layers:
3 layers
Steel hardness:
≈ 62 HRC on the Rockwell scale
Blade lenght:
180 mm
Greatest blade width:
41 mm
Blade thickness:
2 mm
Sharpening type:
Double edge 50/50
Handle lenght:
130 mm
Handle material:
Magnolia wood with plastic bolster
Overall length:
330 mm
Weight:
125 g
Sterilization:
Not recommended