Tojiro PRO FK-843 — Separable kitchen scissors, stainless steel, 70 mm tip, Japan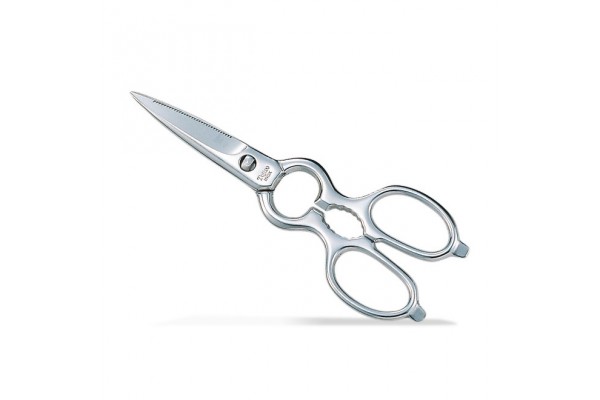 Discounts for regular customers
All registered users who made a purchase in our store become members of the loyalty program. Also, you can receive an e-mail newsletter with our special offers and promotions, as well as information on new arrivals and company news.
All-steel separable Japanese scissors.
* * * * * * * *
The best of Tojiro kitchen scissors.
Professional kitchen multitool, including:
Actually scissors
Bottle Opener
Tool for prying covers (screwdriver 2pcs)
Nutcracker, he is also a bottle cap.
On the stinger there is a notch, for better catch with cut product.
The design is sepable, which facilitates washing and cleaning.
Scissors specifications:
Manufacturer:
© TOJIRO / Fujitora Industry
Serie:
Tojiro PRO
Country of origin:
Japan
Material:
Polished stainless steel
Purpose:
Kitchen multitool
Overall length:
205 mm
Length of the sting:
69 mm
Weight:
150 g
Design:
Separable, for easy washing
Sterilization:
It's possible