PRO-S 5008 - Boning knife from MoV steel 145 mm blade. Kanetsugu, Japan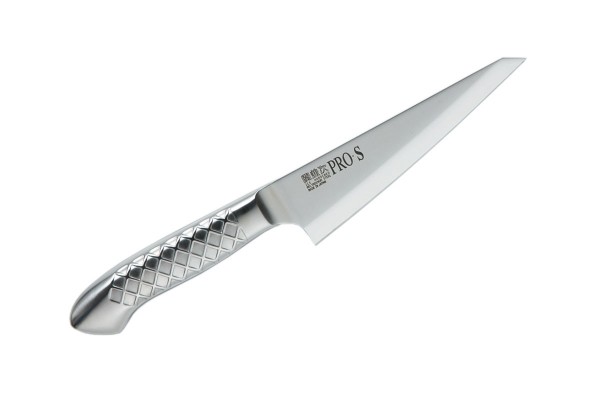 Discounts for regular customers
All registered users who made a purchase in our store become members of the loyalty program. Also, you can receive an e-mail newsletter with our special offers and promotions, as well as information on new arrivals and company news.
Special butcher knife Honesuki.
* * * * * * * *
The powerful blade from stainless steel, is intended for cutting of raw meat, fish or poultry.
Geometry is time-tested, and can withstand severe target loads.
The bones of large animals cannot be cut with a sharp knife, as they have high hardness, and for felling, you will need an ax and a specialized work surface.
The lines may resemble a Japanese hatchet deba, designed to chop fish spines.
Cutting edge on one side.
All these constructive decisions are needed so that the blade would be able to withstand dangerous contacts during boning.
Required for a complete set, if you often need to carve fish, poultry and meat.
Blade:
Molybdenum stainless 1K-6 Daido High carbon steel with cryogenic treatment at -70 ° C, for maximum improvement in working qualities.
Made in Japan, Seki Kanetsugu Co. Ltd using manual works and high-precision CNC machines.
Hardness 57HRC.
Tapering butt at the tip, about 2.2 mm in thickening.
Convex slope on the right and flat left.
Single edge with right.
Handle:
All-steel, matte, with a notching for reliable retention in a wet environment.
Medium-sized, with well-thought-out geometry, it normally fits in both the female hand and the large male palm.
All parts are immaculately polished and the product gives the impression of a whole.
Balance in the palm.
For industrial applications, excellent use Kanetsugu PRO-S, Tojiro-Pro and Tojiro-Color series are created and presented by us, with stainless steel or high-tech polymer handles designed for sterilization.
Care and storage tips:
Adhering to these simple recommendations, the owner will enjoy the Japanese knife for many years, because a quality-made knife is designed for decades of faithful work.
We offer the same complete service for further maintenance and sharpening.
Knife specifications:
Manufacturer:
Seki Kanetsugu Knife Co.
Serie:
PRO·S
Country of origin:
Japan
Blade steel:
Stainless 1K-6 Daido High-carbon steel with cryogenic treatment at -70 ° C
Qty. of layers:
Single-layer steel
Steel hardness:
≈ 57 HRC on the Rockwell scale
Blade lenght:
145 mm
Greatest blade width:
40 mm
Blade thickness:
2.2 mm
Sharpening type:
One-sided, right slope convex, left flat
Handle lenght:
117 mm
Handle material:
18-8 Stainless steel
Overall length:
272 mm
Weight:
153 g
Sterilization:
It's possible