Miyabi Isshin 2000 - Paring knife from AUS8 steel 90 mm blade. Kanetsugu, Japan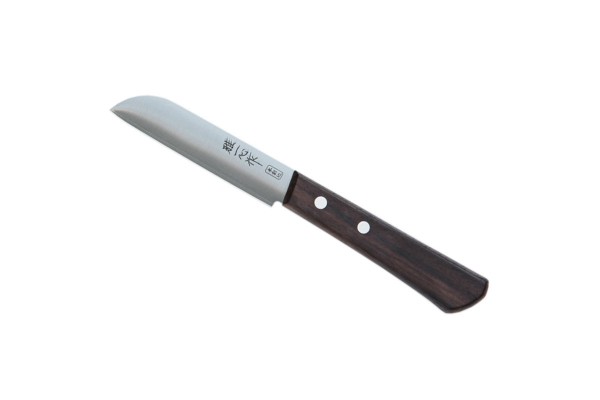 Discounts for regular customers
All registered users who made a purchase in our store become members of the loyalty program. Also, you can receive an e-mail newsletter with our special offers and promotions, as well as information on new arrivals and company news.
Vegetable knife for the most delicate tasks.


Complements larger knives in any sets.
Cut greens, peel potatoes or make carving, this is his job.
For these cuts fits only a small knife with a blade of 9 or 12 cm.
Only an incision or puncture for filler, only to open the clam or cut a grape.
The less the better.
Blade:
Three-layer stainless laminate in plates of SUS410 steel and core of harder AUS8 (Aichi Steel).
Knife is made in Japan, at facilities of Seki Kanetsugu Co. Ltd using manual works and high precision CNC machines.
Hardness of cutting edge 57HRC.
Thickness about 1.5 mm in thickening.
Descents of the blade symmetrical in european style.
Handle:
Made from Rosewood with impregnation that prevents swelling and extends the service life.
Tree is more pleasant to the touch and has a lively non-repeating noble pattern.
The middle handle, with a convenient geometry, normally fits in both the female hand and the large male palm.
Balance towards the handle.
It should be noted that knives with a handle made of wood, despite the high-quality processing, are not designed for washing in dishwashers and sterilization, which is sometimes a prerequisite for cafés and restaurants.
For use in industrial environments, we have presented a great series of Kanetsugu PRO-S, Tojiro-Pro and Tojiro-Color, with stainless steel or high-tech polymer handles designed for sterilization.
Adhering to these simple recommendations, the owner will enjoy a Japanese knife for many years, because a quality-made knife is designed for decades of faithful life.
We offer the same complete service for subsequent maintenance and sharpening.
Knife specifications:
Manufacturer:
Seki Kanetsugu Knife Co.
Serie:
Miyabi Isshin
Country of origin:
Japan
Blade steel:
Stainless AUS8 (Aichi Steel Co.) coated with SUS410
Qty. of layers:
3 layers
Steel hardness:
≈ 57 HRC on the Rockwell scale
Blade lenght:
90 mm
Greatest blade width:
21 mm
Blade thickness:
1.5 mm
Sharpening type:
Double edge 50/50
Handle lenght:
105 mm
Handle material:
Natural Rosewood handle with pressure impregnation
Overall length:
195 mm
Weight:
43 g
Sterilization:
Not recommended