Japanese HOCHO 4003 - Santoku knife from 1K-6 MoV steel 170 mm blade. Kanetsugu, Japan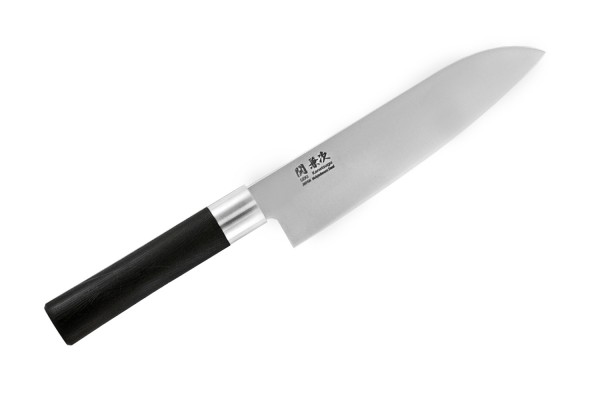 Discounts for regular customers
All registered users who made a purchase in our store become members of the loyalty program. Also, you can receive an e-mail newsletter with our special offers and promotions, as well as information on new arrivals and company news.
Inexpensive traditional medium knife "Three virtues" for meat, fish and vegetables.
* * * * * * * *
Low price in this case does not mean savings on materials and technologies.
The quality and accuracy of performance deserve the highest marks.
First of all, this is a great desire to arm as many professionals as possible with a worthy and affordable tool.
Reasonable choice that has no competitors in terms of price-quality ratio.
The slopes are symmetrical, european, with very subtle edge.
Corrosion-resistant molybdenum 1K-6 Daido High-carbon steel with cryogenic hardening at a -70 °C temperature of, to maximize working properties.
Made in Japan, at of Seki Kanetsugu Co. Ltd factory, with using handmade and high-precision CNC machines.
Hardness 57 HRC.
Full-sized handle with oval cross-section.
High-strength food-grade polymer, with non-slip texture similar wooden surface.
Classic bolster from 18-8 Stainless steel.
All parts are immaculately fitted, which demonstrates high production culture and compliance with hygiene requirements.
The design is extremely durable, with the expectation of commercial use.
Advice on handling, storage and care:

Adhering to these simple rules, the owner will receive only positive emotions using his kit.
With respectful attitude, a quality knife will last for decades, requiring only a few times a year for a planned recovery of sharpness.
Knife specifications:
Manufacturer:
Seki Kanetsugu Knife Co.
Serie:
Japanese HOCHO: Plastic Handle
Country of origin:
Japan
Blade steel:
Stainless 1K-6 Daido High-carbon steel with cryogenic treatment at -70 °C
Qty. of layers:
Single-layer steel
Steel hardness:
≈ 57 HRC on the Rockwell scale
Blade lenght:
170 mm
Greatest blade width:
43 mm
Blade thickness:
1.9 mm
Sharpening type:
Double edge 50/50
Handle lenght:
128 mm
Handle material:
High-tech polymer material with wood texture
Overall length:
302 mm
Weight:
145 g
Sterilization:
Not recommended