NANIWA P-350 - Professional ceramic whetstone #5000, 210x70x20 mm, Japan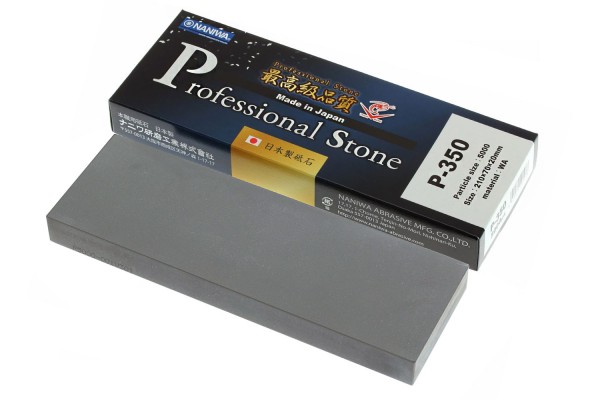 Discounts for regular customers
All registered users who made a purchase in our store become members of the loyalty program. Also, you can receive an e-mail newsletter with our special offers and promotions, as well as information on new arrivals and company news.
There is a great variety of whetstones for manual knives sharpening, but there is a quality & performance standard, and this is Naniwa Professional Stone (CHOSERA).
Here are collected together, the best features sharpening-tools.
Not cheap but the most useful acquisition of all.
Any skilled specialist is looking for water stones that are not only good at grinding, but also capable of doing it quickly.
In addition to the simple saving of time and the ability to cope with the task faster, it is important to take into account the moments associated with fatigue.
When hand sharpening, you need the accuracy of movement, with the retention of the angle.
Each additional wire with a knife on the stone increases the chance to make a mistake.
According to this, in Japan, they created a truly professional series.
For sale in the global market, without stand & with two effective sides, and on the domestic market with a glued platform.
The highest contains of selected abrasive grain, and multicomponent magnesia bonding with champion durability, ahead of the competition.
The main superiority of artificial abrasives, over much more expensive natural stones, in perfect consistency and the absence of unnecessary inclusions, spoiling the result.
Surpasses another, no less remarkable Super Stone product line, through higher metal removal rate.
This is achieved by the highest content of the abrasive fraction of aluminum oxide (WA), in a solid and wear-resistant base.
Large size and thickness, designed to withstand sharpening many thousands times.
Needs to alignment surface with dressing-stone is extremely rare.
Soak for a long time or keep them wet must not.
Enough to pour water & you can immediately to start sharpening.
It's convenient to use a spray bottle for wetting during operation.
To prevent impurity, and for formation of an auxiliary suspension, we recommend using the Artificial Nagura.
The grit number of Nagura, must be necessarily higher, respectively, the particles are smaller.
A wide range of grain for any purpose, will allow you to collect the necessary basic kit, which does not necessarily include all existing grit options.
A set of 3 or 4 whetstones will be balanced for all key stages.
You can always contact us for advice in selection of the optimum combination.
Productive & relatively coarse grain for an unbroken, but thoroughly worn cutting edge.
It can also perform the elimination of chips and damage, also you can find a roughing bar from another series.
For cases where you need to remove the steel more than a thousand grit, but it is not necessary to grind too much.
The main workhorse in any set. To remove traces of more rough processing, or restore cutting edge when scheduled service.
Allows you to achieve a normal sharpness of household knives.
A good inexpensive next step, for example, from a 1K to 5K, as it has a low price than the next one.
Finishing, also suitable for edge editing & as an intermediate, between 1K to 10K.
#5000 Very-Fine

Suitable for final polishing, also a good transition in the progression between # 1000 to 10 000.
The thinnest, able to give a phenomenal sharpness & mirror shine, any high-quality and hardened knife steel.
It does not matter if it is powder high-speed steel, or hardened Shirogami, the result will be unsurpassed.
Like other specialized tools, Naniwa CHOSERA require compliance with simple handling rules.
Do not leave in a wet environment. Ceramics has an exceptional density, and will not let moisture inside.
You can moisten the surface with clean water, and immediately proceed.
After use, you will need drying, with normal access of air and away from the sun.
Put to storage, they can only be completely dried.
If following these recommendations is not possible, we recommend that you look for other options.
The best choice for professionals of the grinding business, and enthusiast who want to get the most.
Specifications of a whetstone:
Manufacturer:
© Naniwa Abrasive
Serie:
Professional Stone (CHOSERA)
Country of origin:
Japan
Grain:
# 5000
Abrasive material:
(WA) White Aluminium oxide
Linkage:
Inorganic multicomponent ceramics with magnesia inclusions, with faintly water adsorbtion
Purpose:
Upscale finishing polishing with the provision of glossy shine and high sharpness of the cutting edge
Dimensions:
Length: 210 mm, width: 70 mm, height: 20 mm (210 x 70 x 20 mm)
Weight:
≈ 750 g
Base stand:
Purchased separately