Tojiro HSS F-519 — Petti knife, 3 layers, FAX 18 (R2) steel, 135 mm blade, Japan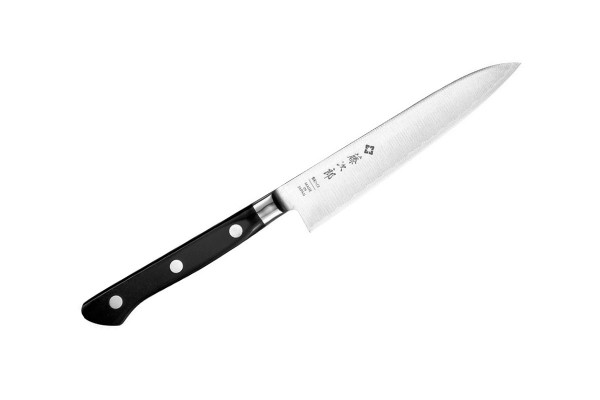 Discounts for regular customers
All registered users who made a purchase in our store become members of the loyalty program. Also, you can receive an e-mail newsletter with our special offers and promotions, as well as information on new arrivals and company news.
Universal medium utility knife with 15cm blade of high-speed premium steel.
* * * * * * * *
A medium petty or utility utility knife is a useful knife in translation.
Universal and harmonious, nicknamed the ladies' man for being often chosen by womens as a "knife for everything."
This is not the most correct approach, but so it turns out in the Slavic knife culture.
Knives from this series, real champions in preserving sharpness.
To manufacture the blade in Tojiro Powdered HSS Series, high-speed powder steel FAX18 (R2) is used.
This tool steel is also used in the manufacture of cutters for metalworking.
The geometry of the knives of this series contributes to an even better cut, and the edged is slightly thinner than in the DP series knives.
Tojiro knives from fast-cut are externally similar to the DP series, but there are some advantageous differences.
Slightly, but different shape of the blade, edged almost "to zero."
The line of transition between the layers is made very aesthetically pleasing, as the line of jamon on the weapon.
Interesting knives, which are quite rare in our country.
Knife specifications:
Manufacturer:
© TOJIRO / Fujitora Industry
Serie:
Tojiro Powdered High Speed Steel Series by 3 layers
Country of origin:
Japan
Blade steel:
Powdered high speed steel cradded material FAX 18 (NACHI-FUJIKOSHI CORP.) in stainless plates from SUS 405
Qty. of layers:
3 layers
Steel hardness:
≈ 62 HRC on the Rockwell scale
Blade lenght:
135 mm
Greatest blade width:
26 mm
Blade thickness:
1.4 mm
Sharpening type:
Double edge 50/50
Handle lenght:
105 mm
Handle material:
Durable and resistant to external influences, wood-polymer composite Pakkawood
Overall length:
240 mm
Weight:
65 g
Sterilization:
Not recommended