Tojiro PRO FD-705 — Flexible filet knife, stainless steel, 190 mm blade, Japan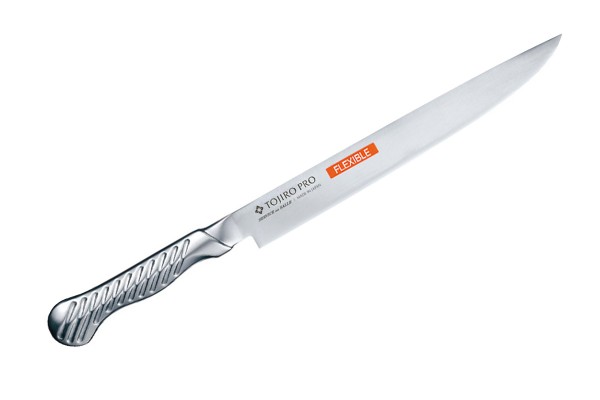 Discounts for regular customers
All registered users who made a purchase in our store become members of the loyalty program. Also, you can receive an e-mail newsletter with our special offers and promotions, as well as information on new arrivals and company news.
Unique flexible knife. Designed for French chefs.
* * * * * * * *
Creating this knife, the company set itself a difficult task.
Two opposing qualities in one knife, and both brought to perfection.
The result was successfully achieved.
Thin and strikingly flexible, at same time razor-sharp blade a worthy place among the wonderful Tojiro knives.
Knife specifications:
Manufacturer:
© TOJIRO / Fujitora Industry
Serie:
Tojiro-Pro "Service en Salle" service knives series
Country of origin:
Japan
Blade steel:
SD Molybdenum Vanadium steel
Qty. of layers:
Single-layer steel
Steel hardness:
≈ 57 HRC on the Rockwell scale
Blade lenght:
190 mm
Greatest blade width:
23 mm
Blade thickness:
0.6 mm
Sharpening type:
Double edge 50/50
Handle lenght:
105 mm
Handle material:
18-8 Stainless steel with a matte non-slippery surface
Overall length:
320 mm
Weight:
60 g
Sterilization:
It's possible